Main

Docs
o Features
o Hardware
o Software
o Getting Started
o Release Notes
o Front Panel Button
o Front Panel LEDs
o USB Console
o Admin CLI
o Using HTTPS
o SSH Authentication
o Client List
o Antenna Issues
o Graphs
o PPS Output
o Reimage

Live Demo

Contact Us
Feedback and Bug Reports
Follow us on LinkedIn

Privacy Policy
Shipping and Tax
Returns and Warranty


---
Software Overview
The NTP200 and NTP250 have 5 interfaces for configuration and status:
A view-only embedded web server
A local USB console for configuration and offline status
Remote SSH console for configuration and status
A command button on the front for performing reboot, shutdown, or a factory reset
Front-panel LEDs for quick status indication
The view-only embedded web server provides quick status information for the system, GPS, NTP, and Network as well as help information and 7-day graphs of NTP/GPS and system data.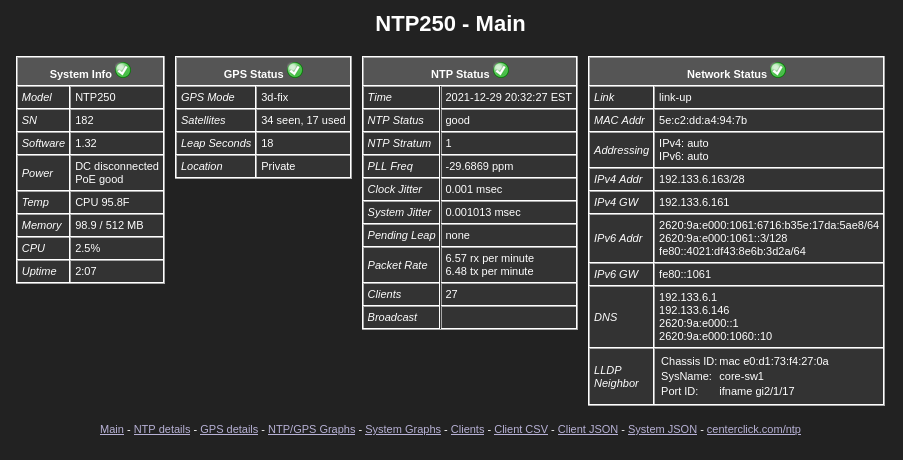 JSON-Encoded status data is also available so you can integrate with other systems. Check out the Live Demo to see how you can integrate or log it.
The Admin Console can:
View system, NTP, and GPS info (same as on the web interface)
View network status even if the network is down
Reboot or safely shutdown the appliance
Configure static IP addressing or DHCP
Configure network services such as SSH logins and HTTP/HTTPS
Configure location privacy on or off for the HTTP interface
Configure IP/MASK based NTP access control
Configure the Timezone
Configure auto-upgrade options (dont-check, auto-check, or auto-install)
Reset settings
Perform a software upgrade
---