Main

Docs
o Features
o Hardware
o Software
o Getting Started
o Release Notes
o Front Panel Button
o Front Panel LEDs
o USB Console
o Admin CLI
o Using HTTPS
o SSH Authentication
o Client List
o Antenna Issues
o Graphs
o PPS Output
o Reimage

Live Demo

Contact Us
Feedback and Bug Reports
Follow us on LinkedIn

Privacy Policy
Shipping and Tax
Returns and Warranty


---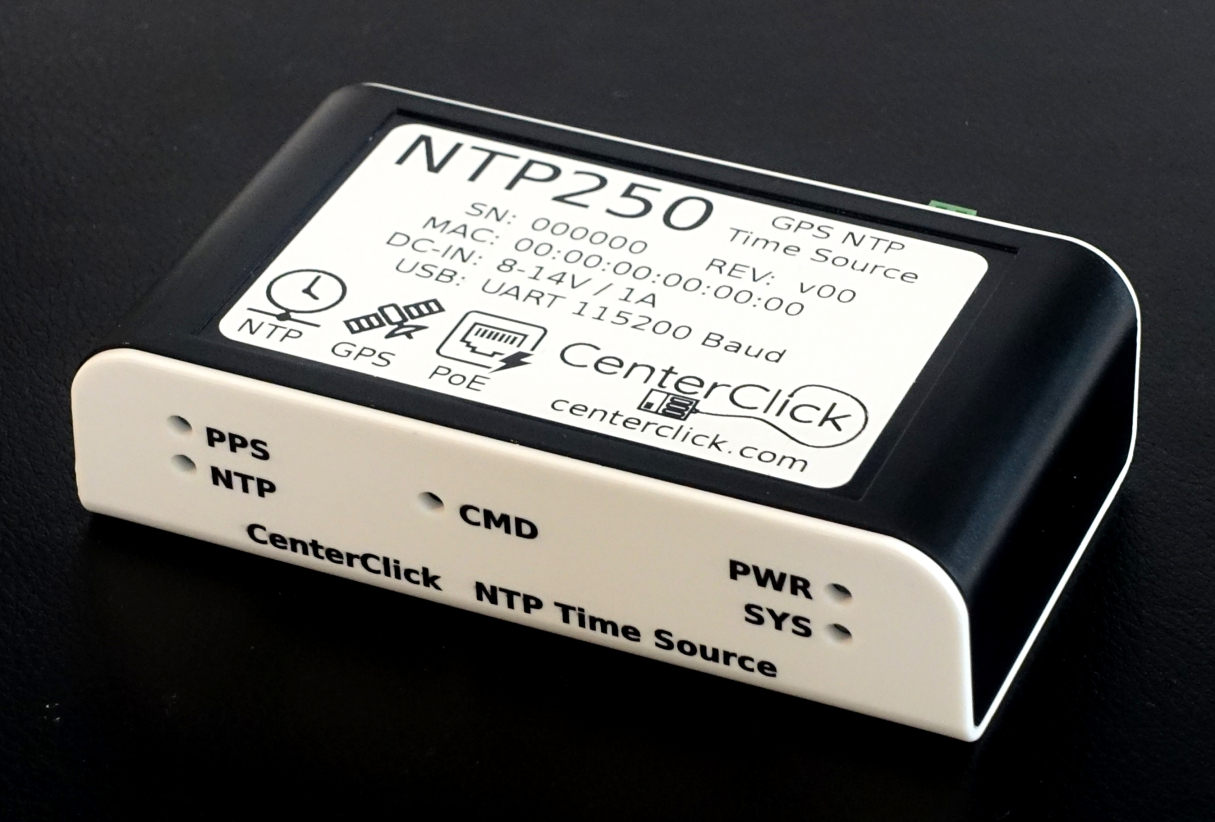 Meet your new Time Server
CenterClick produces the NTP200 and NTP250 GPS based NTP Server Appliances that keep your equipment synchronized.
No stupid app, no online accounts, no subscription service, and no Internet needed. Our NTP Appliances are designed to operate with or without Internet access using local administration and configuration.
Our products are trusted by ISPs, schools, TV and radio, enterprises, hobbyists, and others in over 20 countries.
---
Included in the Box

Your NTP200 or NTP250
A DC power supply (unless you opted for no power supply)
A GPS antenna
The getting started guide

Supply Yourself

An Ethernet cable
A Micro-B USB cable (if needed)
---
NTP200

BUY DIRECT - $199 - ON SALE: $184

NTP250

BUY DIRECT - $249 - ON SALE: $239

Direct purchases include free shipping within the USA. For international shipping quotes please see our shipping policies.

We offer quantity discounts starting at 10+ units, preconfiguration services, and custom modifications are also possible. Please contact us to discuss your needs.

OR BUY ON AMAZON

OR BUY ON AMAZON
---
Features
Feature
NTP200
NTP250
Stratum 1 NTP
Yes
CPU & RAM
Multi-core ARM CPU with 256MB RAM
Multi-core ARM CPU with 512MB RAM
Storage
8GB or 16GB MicroSD card
Wired Ethernet
10/100mbps
IPv4
Static or DHCP
IPv6
Static or SLAAC EUI-64, SLAAC Token, and/or DHCPv6
Embedded View-only Webserver
HTTP & HTTPS
Read only SNMP
V1/V2 with limited MIB support
Admin Console / CLI
USB or SSH
NTP Client Tracking with JSON & CSV export
Up to 500,000 unique IPs
Up to 1,000,000 unique IPs
NTP ACLs by IP/Mask
Rate limit, Sync, Query, Block
Cloud-Free Technology
No stupid App, No online accounts, No subscription service, No Internet needed
GPS Antenna Included
Yes, with magnetic attachment, 10ft cord, and SMA connector
GNSS Constellations
GPS, GLONASS, Galileo, SBAS, QZSS
Front Panel LEDs
Power, System Status, NTP Status and PPS
Internal Power Backup for GPS and RTC
3+ Hours
Graphs of GPS, NTP and System Status
7-day graphs
Location Privacy
Location can be hidden or shown on Web interface
JSON Encoded Raw Data for Custom Integration
Yes
Prometheus-compatible Metrics Endpoint
Yes
LLDP
Advertisement and Neighbor display
Software Upgrade
Automatic or Manual. Online or Offline
PPS Output
5V 2-pin pluggable terminal block connector
DC Power Input
8-14V (9V 1A or 12V 1A recommended)
Power Consumption
Typical 1W, Max 5W
802.3af PoE
No
Yes
Dual Redundant Power Inputs
No
Yes (DC + PoE)
---
Need Help, Got Questions?
Check out the Documentation and support is available by submitting a question.
---