---
Included in the Box

Your NTP200 or NTP250
A DC power supply
A GPS antenna
This getting started guide

Supply Yourself

An Ethernet cable
A Micro-B USB cable (if needed)
---
Setup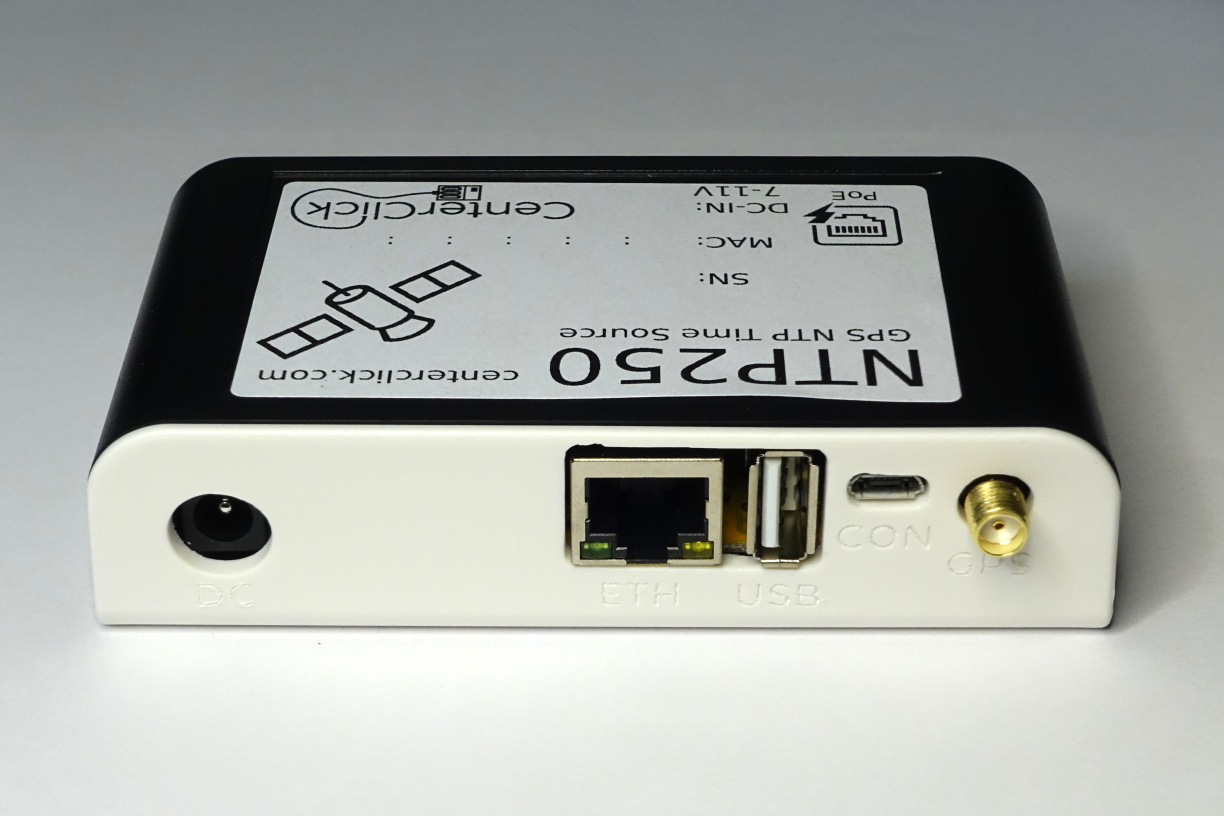 Connect the DC power supply, Ethernet cable, and antenna to the back.
GPS antenna placement
The included GPS antenna can be placed in any orientation, but will work best when attached to the top of a metal sheet or plate that is parallel to the ground.
The antenna module features a built-in magnet and a 6ft cord.
Location
The NTP200/NTP250 and power supply are not watertight and should only be used in indoor dry locations or in a watertight enclosure.
The GPS Antenna is rated for wet locations and can be used indoors or outside.
First power up
Power backup for rapid bootups is implemented using a supercapacitor.
On a cold boot where the supercap is discharged, it can take the GPS module 20-90 minutes to acquire lock.
Please be patient. For the quickest aquision, make sure the antenna puck isn't covered or inside loops of the antenna cord and place it on top of a peice of sheet metal to provide a good ground plane.
Connecting the Network
Both IPv4 and IPv6 are supported and, by default, DHCPv4 and DHCPv6/Autoconf6 are used to obtain network addresses automatically.
If you would like to use static addressing, this can be setup using the USB admin console.
---
Monitoring and Configuration
Determine IP address
You'll need to determine the IP address of the device to use the Web client, SSH, and configure your NTP clients.
Unless you set a static IP using the USB admin console or on your DHCP server, you will need to either lookup the IP address using the MAC address printed on the top of the device in your router or simply connect to the USB admin console and press 'k' to see network status.
Web Interface
The web interface is read-only and provides monitoring status. By default, location data is displayed, however if you wish, you can turn on location data privacy for the HTTP interface using the admin console.
USB admin console
Use the Micro-B USB port for configuring the device or debugging when the network is offline.
A serial console is presented over this USB port so you can use any terminal program and connect using 115200 baud N81 with no flow control. For driver and usage help see the online docs.
Enabling SSH admin console
If you want to enable remote administration, you can enable SSH logins using the USB admin console. SSH logins are disabled by default. Both password and public key authentication are availble.
Configuring NTP Access Control
By default all clients can synchronize with the device, however you can use the admin console to configure IP/MASK sets that can have additional permissions or fewer permissions such as blocking.
Software upgrade
Software upgrades can be performed using the admin console. Software upgrades are not automatic, you need to perform them yourself.
---
Configuring your NTP clients
Setup of your clients
You will need to point your clients to use the devices using NTP. This can be done using a DHCP option, modifying /etc/ntp.conf on linux devices, or using a GUI on Windows or MacOS
Verification
You can verify if a client is using the device by viewing the NTP Clients link on the Web Interface which will list the IP of every client that has queried the device in the past 7 days.
---
More Information and Help
For assistance, further documentation, support, or to obtain the software release notes visit https://centerclick.com/ntp.
---
---